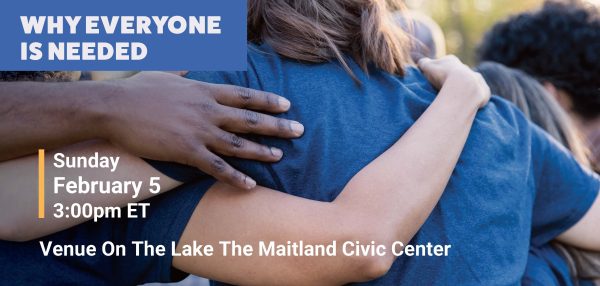 Everyone is invited to our public lecture on Sunday, February 5, 2023, 3:00 pm, at Venue on the Lake in Maitland. The talk will be given by James Shepherd, CS, and is titled Why Everyone is Needed. Come hear how our unbreakable connection to God, infinite Love, gives us permanent worth and purpose. It lifts us from dark times to healing and progress.
An audio live stream of the lecture is also be available:
Direct Link – https://zoom.us/j/6179723719
Zoom.com or Zoom App – Meeting ID: 617 972 3719, Passcode: 352634
Call In – Dial +1 301-715-8592, Meeting ID: 617 972 3719 #, Participant ID #, Passcode: 352634 #. Press *6 to mute/unmute.
DOWNLOAD LECTURE FLYER FOR DETAILS
---
We invite all visitors and our extended church family to join us at our regular services. Sunday services begin at 10:00 AM along with Sunday School, and the Wednesday evening testimony meetings begin at 7:30 PM.
Our services are also live streamed so you have a choice of how to attend. Select Zoom Instructions for the details to participate in the remote broadcasts. Call the office if you need technical assistance.
Our public Reading Room on Park Avenue is open seven days a week. For more details see the sidebar information. We look forward to seeing you at our services and Reading Room!
Your continued financial support of our church is greatly appreciated! Contributions can be mailed to the church, dropped into the collection box in the lobby, or made securely online by using the "Donate Now" button in the sidebar to the left.
Christian Science is a Christian denomination based on the Bible, and the life and teachings of Christ Jesus are at the heart and soul of its practice. The Christian Science church was established in 1879 by Mary Baker Eddy and is headquartered in Boston, Massachusetts. Christian Science and its healing ministry rest firmly on Jesus' healings and teachings and on the Bible as a whole. For more information visit our Frequently Asked Questions page, or the other webpage tabs at the top of the screen.