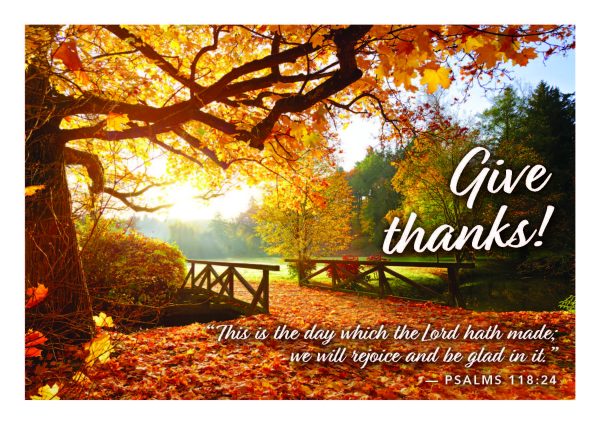 "Praise ye the Lord. O give thanks unto the Lord; for he is good: for his mercy endureth for ever." (Ps. 106:1)
Join us in praise and gratitude at our special Thanksgiving Day service – 10:00 AM, Thursday, November 28. In addition to hymns and readings, members of the congregation share statements of gratitude and blessing.
In addition to this special service, we invite our extended church family to join us at our regular services. Sunday services begin at 10:00 AM and the Wednesday evening testimony meetings at 7:30 PM. Our public Reading Room at 322 N Park Ave is open seven days a week. For more details see the sidebar information on the other tabs of our website. We look forward to seeing you at our services and Reading Room!
Christian Science is a Christian denomination based on the Bible, and the life and teachings of Christ Jesus are at the heart and soul of its practice. The Christian Science church was established in 1879 by Mary Baker Eddy and is headquartered in Boston, Massachusetts. Christian Science and its healing ministry rest firmly on Jesus' healings and teachings and on the Bible as a whole.