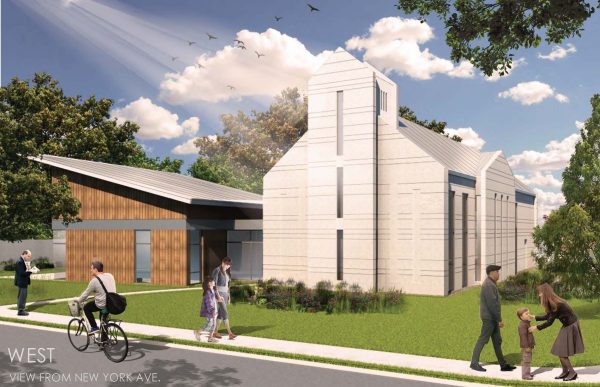 First Church of Christ, Scientist, Winter Park, is excited to announce the start of construction for our wonderful new edifice! Progress photos can be viewed in the slide show at the bottom of this page.
Our church was established in downtown Winter Park in 1952, and our public Reading Room opened the following year. Over the last decade we've worked diligently to understand how to better serve the needs of our congregation and the community. We have acknowledged that to fulfill our mission and outreach, church functions should be consolidated into a single new state-of-the-art building. ACi Architects has completed the design, which has gone through multiple city hearings as well as the permitting process. Lamm & Company Partners has been contracted to build the project.
The new facility will be built at the corner of New York and Swoope Avenues, and will include the sanctuary, lobby, Sunday school, office, and support spaces. We anticipate moving into our new church home by fall 2019. "Our congregation is looking forward to dedicating our new edifice once completed," said Barbara Leigh, former Executive Board Chair. "Our church continues to be an integral and committed member of the Winter Park community and is proud to be a part of the long tradition of religious institutions in the city."
Christian Science is a Christian denomination based on the Bible, and the life and teachings of Christ Jesus are at the heart and soul of its practice. Christian Science was discovered in 1866 by Mary Baker Eddy, and the church is headquartered in Boston, Massachusetts. Christian Science and its healing ministry rest entirely on the affirmation from the Bible that "God is love."
We invite our extended church family to join us at our temporary location at the Orange Technical College, 901 W Webster Ave, Winter Park, FL. Sunday services begin at 10:00 AM and Wednesday evening at 7:00 PM. Use the parking lot off of Denning Dr and walk through Gate 4. Our public Reading Room at 322 N Park Ave has remained open as a community resource throughout the redevelopment process. We look forward to seeing you at our services and Reading Room, then welcoming everyone to our new home this fall!